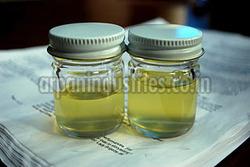 What Are Paint Binders?
Paint binders are essentially known as vehicles and are the main component of any paint. Paint binders are the oil that is mixed to the base. It helps to hold other substances like color pigment, base, extender, etc as it is in liquid form and binds the surface which is being painted.
These are essential as they help with the durability, toughness, and water resistance in the paints and provide uniformity on the surface to be painted. There is various paint binder manufacturer in India who sell quality products at affordable prices to their customers all across the country.
Different Types of Paint Binders
There are different varieties of paints that are available in the market space. From eco –friendly to chemical-based, each of these paints contain different types of paint binders. Listed below are different types of paint binders that are available in the market and online. You can also order bulk products from several wholesale paint binders in Gujarat at customer-friendly prices.
Linseed Oil
This type of paint binder is usually used for all ordinary paint jobs. Extracted from flaxseed linseed oil is clear, transparent, pale, sweet to the taste and odorless. The drying of this oil is done through the process of evaporation. These linseed oils are available in different forms like raw linseed oil, boiled linseed oil, and pale boiled linseed oil.
The raw linseed is a slow process as it takes time to dry. Thin, pale in color and transparent raw linseed oil becomes hard and stiff when exposed to air while the boiled linseed oil is thicker, dark in color and also dries up quicker than the raw linseed oil.
However, it is inferior in elasticity & power of penetration. The only difference between boiled linseed oil and pale boiled linseed oil is the color. Pale boiled linseed is used for painting in the plastered surface.
Nut Oil
This paint binder is cheaper and extracted from walnuts. Nut oil is colorless, less durable and often dries quickly and is therefore used in white or light-colored paints.
Poppy Oil
As the name suggests poppy oil is extracted from poppy seeds and is very expensive to buy. These are used for internal painting of light shades and delicate colors. The biggest advantage of using poppy oil is that the color lasts long but it takes time to dry.
Tung Oil
Made from the nut of the tung tree, tung oil is extracted from the nut which gets hardened when exposed to air resulting in transparent film. Tung oil is mainly used for preparing paints of high quality.
Paint binders are the only component that is present among all types of formulation. The binders consist of different properties such as gloss, durability, flexibility, and toughness. Many binders are very thick before application and hence they need to be thinned, however, the type of thinner varies with the binder. Various paint binder manufacturer in Gujarat different offer superior quality products at market competitive prices for their valued customers.