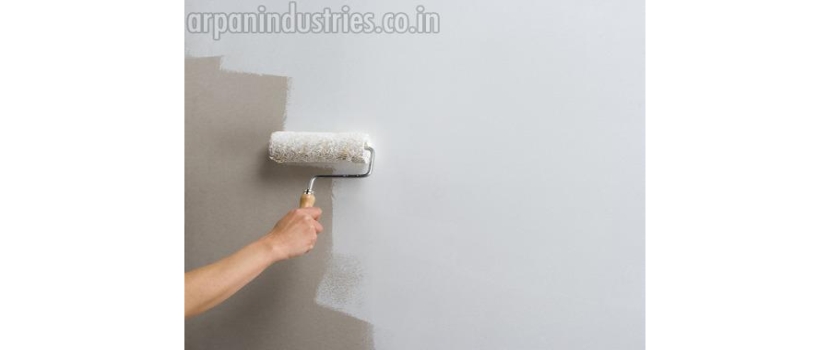 For a painter, primer is an important part of their work, and it's what they use to prepare the surface before they begin painting. Longer-lasting, better-protected, and more durable adhesion around painted surfaces could all be advantages.

Water based primers are widely available in the market. You can easily get one from a water based primer supplier in Gujarat.

Function Of A Primer:
There are a number of advantages to priming in addition to creating a solid foundation on which your subsequent coats of undercoat or topcoat will adhere. Priming almost any surface will make it easier to paint. Existing paintwork which has been touched down, new wooden surfaces, plaster, masonry, wallboard, and metal alloys all benefit from proper preparation.

When trying to paint compounds like concrete or wood, it's a common choice. Priming creates a sticky base on which subsequent coats will adhere. Additionally, it aids in hiding wood grain and knots, conceals joints, and prevents previous colours from bleeding through, all of which lessens the need for extra finishing coats.

If the material you're painting isn't water-resistant or will be open to the elements, you'll want to use a primer. Consequently, it serves as a sealant and aids in the preventative measures of mould growth, which is especially common in recently constructed structures.

Primers could also help you paint dirty or unclean surfaces because they can provide a base for fresh paint to adhere to. Primer could be used to generate lighter surfaces over darker ones without needing to go through a more time-consuming process. Primers are available in a variety of colours, including shades that match the final top colour you would like to use.

Time Scale:
As a general rule, once the primer has just been implemented, it can be reapplied as soon as 24 hours later (based on the brand; invariably look at the label). Most primers have a shelf life of two weeks, but some only last a day or two. If you decide to stick to this schedule, be aware that the final finish may suffer as a result.

Water Based Priming:
If you want the best possible results, use a water-based product made with acrylic resins as the foundation. Using this primer is much more pleasurable than using a primer that is based on solvent. Fast-drying, brilliant opacity and lower VOC grades in the paint are just some of the benefits of using a water-based primer. The water-based primer includes cleaning your tools easier because water can be used to clean the brushes.

Using a water based primer is fantastic for empty drywall as well as new wood; they're also fantastic for filling in wood damage. And, contingent on the product preparation, they're great on brickwork and other porous surfaces like detailing, plaster, and metal because they preserve a malleable, crack-resistant layer while also having good adhesive characteristics for subsequent painting.

Top Benefits Of Using It:


Seals Porous Surfaces - A water-based primer will bring out the hue and sheen of your freshly painted walls. Every time you use it, the surface is much more polished because it flushes it out. If you don't prime a porous surface, the paint will soak in and leave a rough finish that you don't want. You will also need to apply more paint overall to attain the ideal coverage, which is less cost-effective of course.
Promotes Adhesion - Primer is necessary to provide adhesion to the paint so that peeling, flaking, cracking, or blistering will not occur. As a result, priming won't work unless the surface is properly prepared first.
Helps Block Odours - Anywhere and at any time, odours can appear. The aroma would be removed whether you purchased a new home or remodelled your current one! A water-based primer makes it simple to cover up odours while also preventing them from returning.
Helps Hide Previous Paint - Using a primer coat before painting again is a good idea. Using a primer first will help you achieve the final colour you want, but you'll have to apply the paint in fewer coats because of the primer. That saves a lot of time when it comes to painting.
Mould Resistant Finish - Mould growth is a common occurrence in places with high humidity. Even if painting over mould is a workaround, it only has a temporary effect. It only reduces the symptoms, not eliminates them completely.


Final Words: Use of a water-based primer during your upcoming timber finish plan would save you both energy and cash. It is so much easier, quicker, and requires far less paint to encompass a primer-coated exterior.
This entry was posted on September, 25, 2021 at 18 : 32 pm and is filed under Industrial Chemicals. You can follow any responses to this entry through the RSS 2.0 feed. You can leave a response from your own site.