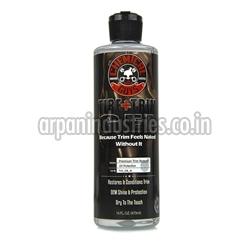 Tyres are one of the most important parts of any automobile. Having a good tyre ensures that your vehicle can easily run on different terrains without letting your face any type of difficulty. The drive would be smooth and also ensure your safety. Having old and worn out tyres would make the journey unsafe as the tyres might go flat and even explode at any time. While there are different ways to improve the quality and the life of a tyre, one of the most effective one is by putting a tyre coating chemical on it.
There are different types of chemicals that you can get from a tyre coating chemicals supplier in Gujarat by stating the type of tyre you have. The wholesale tyre coating chemicals supplier in Gujarat can also let you know of the various benefits that these chemicals can have for your tyre's life. Not only would it improve the quality of the tyres, it would also help you enjoy a smoother drive. But that's not all, tyre coating chemicals have a lot of benefits. Here are some of them:
Excellent Finish
When you consult any tyre coating chemicals supplier in India, the one thing they would certainly want you to know is that these coatings offer an excellent finish on your tyres. They come with an excellent finish and make the tyres look polished and finished. The excellent finish of these coatings do not hamper with the grip of the tyres and make them even better with time.
High Purity
Another great feature of tyre coating chemicals is that they are really pure. If you consult a trusted tyre coating chemicals supplier in Gujarat, you will realize that a good chemical would come with a purity percentage of around 92%. You can be sure that the purity of the chemical coating would be pure and not cause any harm to your tyres. Instead, these coatings would only help to improve its look, life, and grip.
Quick Dry Technology
Another great benefit of tyre coating chemicals is that they have a quick-drying technology. These coatings can be put on top of the tyres and then they do not need a very long time to dry out. You can be sure that this coating would dry in less than 2 hours if you keep the tyres at any temperature around 27 degrees Celsius. This is one of the greatest benefits of a good tyre coating chemical. Your car would be ready to take out in less than 2 hours.
Extended Life
By putting on a layer of this tyre chemical coating, you can extend the life of your tyres. These chemical coatings add to the life of your tyres and make them more durable. You can bring these tyre chemical coatings and over your tyres with them for higher durability.
Increased Performance
The performance of the tyres would be enhanced when you cover the tyres with these chemical coatings. Their grip on the road would improve and the chances of the vehicle skidding on the road would decrease.